GANG BANG
Our Gang is now, by popular demand, a regular appointment…
So we just have to remind you that this is an evening with a very high erotic content where the transgression will be at the highest levels!!!
Only for those looking for strong sensations so highly not recommended for the shy and undecided!
For genre lovers this is an opportunity not to be missed…
LE SABBIENERE STAFF

START:
Wednesday 12 October 2022
Start 9.00 pm
Dinner: rich buffet dinner offered by the staff
DRESS CODE:
For her: elegant sexy
For him: elegant dark
KINKY FLUO
It is the trend of the moment, a very special and eye-catching party!
It draws inspiration from bodypainting reworked with the language of the luminous party… to this we will add a very strong dose of transgression and eroticism as only at Le SabbieNere we know how to do!
The club will provide a series of fluorescent gadgets but it is obvious that a dress code with at least one t-shirt and /or a themed accessory will be appreciated…
Let's have fun together, we are waiting for you!
LE SABBIENERE STAFF
START:
Saturday 15 October 2022
at 10.30pm
DRESS CODE :
For Her: Fluorescent dress and/or accessories
For Him: Fluorescent dress and/or accessories
ONLY COUPLES
One of the most important news of this winter season is to dedicate the last Thursday of each month exclusively to couples!!!
We thought of giving the opportunity to all young couples who have never crossed the door of a transgressive club and to those who do not like an environment frequented by single men to enjoy a place, such as Le SabbieNere, created and designed only for the "pleasure"!
The event will be open exclusively to couples under the age of 50 and to all couples already registered with our association.
A tasty buffet will be offered from 21.00 to 22.30.
Take advantage of it and do not miss this unique opportunity to get in touch with an atmosphere with a high erotic content and full of transgression… our staff will be happy to do the honors.
Cost of the evening:
Members: 30 Euro/couple
New Members: Just the membership fee 100 Euro/couple
LE SABBIENERE STAFF
START:
Thursday 27 October 2022 at 09.00pm
Buffet from 09.00pm to 10.30pm
DRESS CODE:
For Her: Sexy elegant
For Him: Informal elegant
HALLOWEEN
"HALLOWEEN" is undoubtedly one of the most important event of the year both for us as staff and for you who come to spend the evening at the Le SabbieNere club!
We are very proud of how, for many years now, we have been taking care of the smallest details of the setting up of this event, creating an amazing evening that will certainly leave you stunned and with a scenography that will have no equal!
By now everyone knows that it is impossible to miss such a night… so you just have to spend it with us, under the flag of mystery, magic, fun but above all a lot of transgression!!!
LE SABBIENERE STAFF
START:
Monday 31 October 2022
at 10.30pm
DRESS CODE:
For Her: sexy halloween costume
For Him: halloween costume
FRIDAY
Friday of "Le SabbieNere" is the right day for those who want to meet new people who love lifestyle and live new amazing transgressive experiences!
A first phase dedicated to the "Meet & Greet" will allow you to socialize while enjoying an excellent cocktail listening to the good music selected by our trusted DJ in the background and then gradually lead you into the heart of the evening until you indulge in the wildest erotic games!!!
Each couple will be given two "Drink cards" by our staff present at the entrance!
Our Friday is a great way to kick off a weekend of transgression so as to break the routine and the usual daily grind!!!
We hope many of you will come…
LE SABBIENERE STAFF

START:
Every Friday
Start 10.30 pm
DRESS CODE:
For Her: Elegant Sexy
For Him: Elegant Informal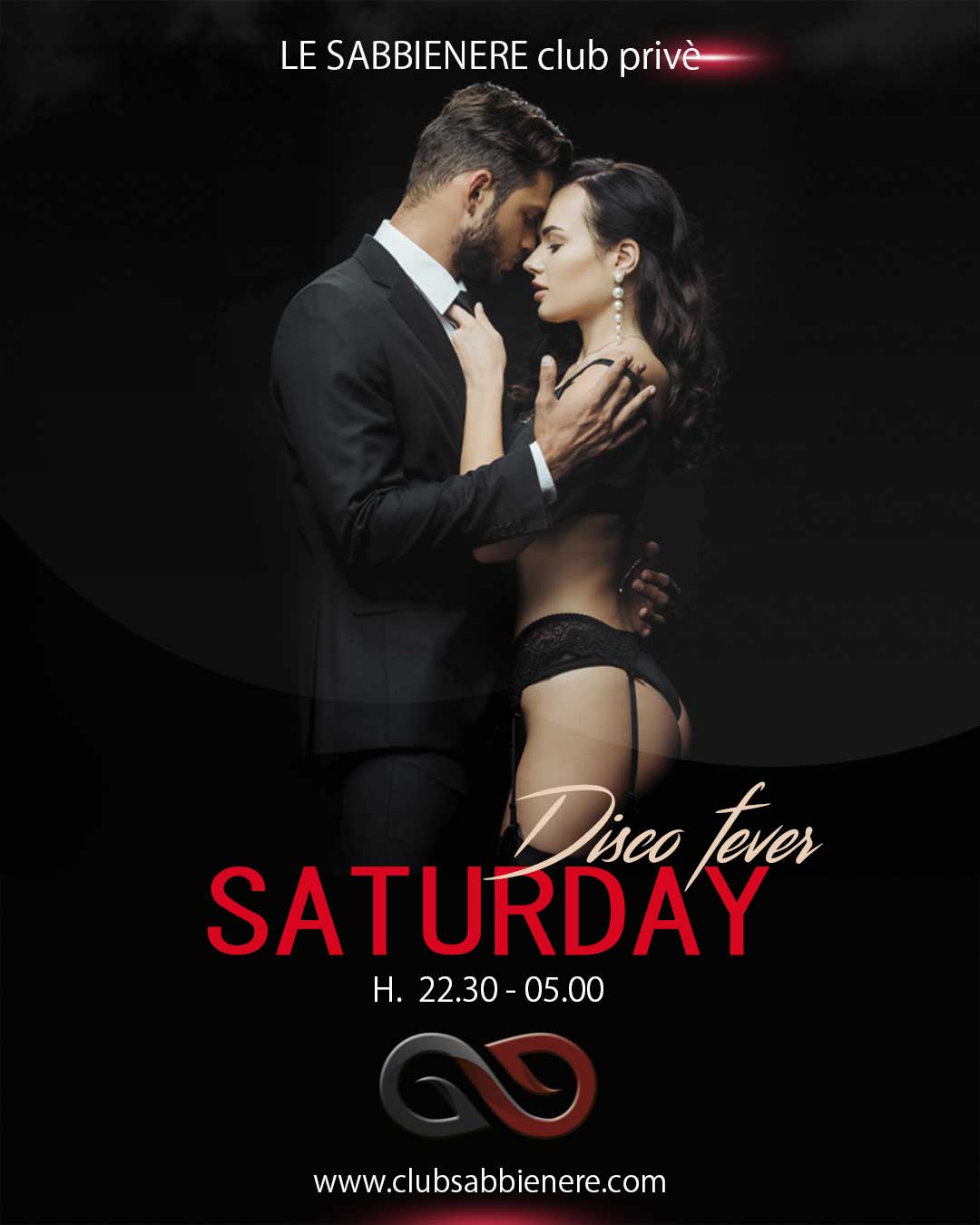 SATURDAY Disco Fever
Our Saturday Disco Fever is not to be missed… designed for those who want to indulge in the frenzy of dancing!!!
Starting to play on the disco or at the bar is the best way to create the right eroticism to spend an unforgettable night!
The best DJs of the Sicilian scene will be chosen for you by our staff to cheer the transgressive Saturday that only at Le SabbieNere you can experience.
What are you waiting for… unplug from the usual routine and come and visit us as numerous as ever!!!
LE SABBIENERE STAFF
START:
Every Saturday
at 10.30pm
DRESS CODE:
For Her: Sexy elegant
For Him: Informal elegant
SUNDAY WELLNESS AREA
Autumn is upon us, the months to come will be cooler… but don't worry, we have the solution!
Our wellness area is already there ready for you… it just waits for you to gently warm up your bodies!
We will be open from 15.30 to 21.00 with Brunch, Tisaneria and Apericena… and of course sauna, turkish sauna and swimming pool with heated jacuzzi!
Autumn is a transitional season as it will be for our Club… in fact we have great surprises in store for the winter season that we will slowly reveal to you !!!
So what are you waiting for, in the meantime we begin to warm up waiting to get to the heart of this next special winter that we are preparing for you !!!
LE SABBIENERE STAFF
START:
Every Sunday at 15.30
DRESS CODE:
For Her: bathrobe and flip-flops provided by our staff at the entrance
For Him: bathrobe and flip-flops provided by our staff at the entrance
For all those who need to stay overnight Le Sabbie Nere recommend:
Hotel Villa Michelangelo
Tel : +39 095 910176
http://www.hotelvillamichelangelo.it
B&B Polifemo
Tel : +39 095 7914535
http://www.polifemoetna.com
Hotel Alle Pendici
Tel : +39 095 7914310